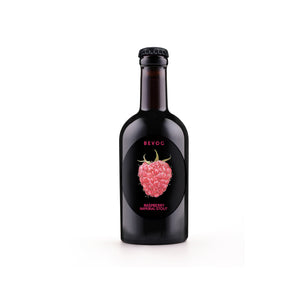 This big imperial stout was brewed with 9 different malts and the finest raspberries available.
To brew such a beast it is important to make a super big and rich wort base, because the raspberries that join the action in secondary fermentation, have more than 2 times lower sugar content compared to the wort, so they dilute the beer. We therefore needed a super strong wort to keep things rich and awesome. For everyone who is used to Plato numbers, the base of this beer has 30 P! Along with an intense raspberry aroma, the fruits also contribute to a mellow and round acidity.
Prepare your taste buds, as this is one dangerously delicious brew. Chocolate, creamy, roasty, dry fruits flavours from the malts work insanely well with raspberry's sweet and slightly sour notes... just like eating a chocolate raspberry cake... A perfect beer for the cold season.
This item is available in Slovenia and Austria. Unfortunately there are legal limitations on shipping alcohol to all other countries. However we can still ship non alcohol items to this countries.  We are very sorry. Thank you for your understanding.
VAT is included.