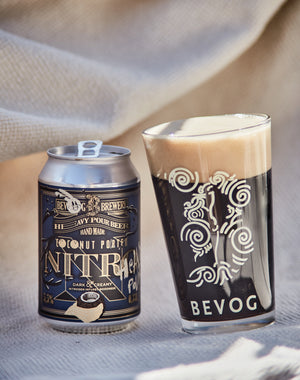 Coconut porter 🥥
This creamy coconut porter will drive your nose, mouth and belly nutz!
After few years of playing around with coconut and brewing all sorts of dark stuff (including nitro beers - and some we didn't even released to the public or made it very limited draught option in out taproom) we figured that so many people find great love in dark beers, especially after it is nitrogenized.
So here we have it. Amazing porter and we doubled the previously used amount of very precisely hand-toasted organic coooconut. It is a real pain to make it, but we love doing it. The extremely fine base is made with one of the best malts on the planet Earth and then topped with obsessive amount of coconut.
Please pour it as a nitro beer (see instructions on the can), enjoy the wonderful cascading effect and be a witness when majestic creamy head is born. This beer is very nutty, not just coconutty. Slight aromas of coffee and caramel from the malt bill just widens the taste spectrum. It is very creamy with highly pleasant mouthfeel which lingers like a haunting refrain, but still keeps on calling for the next sip. Keep it nutzzz!
So, lets go to 🏫school 🎓 of nitro pour:

1. You need a glass which is taller than wider. Take nicely chilled but not ice cold beer into you hand. Do the master twist.
2. Slowly open the can and make the HARD POUR! HARD POUR is incredibly important in order to get smooth creamy long lasting foam. Do not freak out that you have so much foam or that beer will go all over the place. Do not stop hard pour until you are one finger from the top of the glass or even pour the whole can at once (if glass is big enough of course).
3. Look at beautiful cascading and formation of the foam. Wait 1-3 minutes and then you are ready to fall in love.
This item is available in Slovenia and Austria. Unfortunately there are legal limitations on shipping alcohol to all other countries. However we can still ship non alcohol items to this countries.  We are very sorry. Thank you for your understanding.

VAT is included.