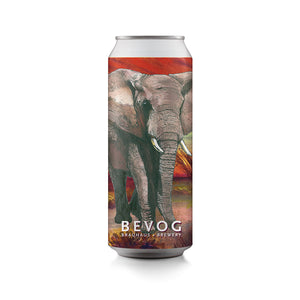 Nitro chocolate imperial stout, 10,0% alc.

Stout, brewed with the finest roasted malts and responsibly-sourced organic & fair-trade cocoa nibs from our friendly neighbour Zotter Schokoladen Manufaktur. Rich roasted malts come together with huge chocolate aroma and taste with notes of espresso to make it perfect beer for all special occasions. All-in type of beer.
...
Both African elephant species are threatened foremost by habitat loss and habitat fragmentation due to conversion of forests for agriculture, livestock farming, and human infrastructure. Forest elephants are primarily threatened by poaching for bushmeat and ivory. Tens of thousands of elephants are killed each year to meet the illegal international demand for ivory. As this trend continues, the African forest elephant was declared Critically Endangered in 2021.

Available in 0,5L cans.
This item is available in Slovenia and Austria. Unfortunately there are legal limitations on shipping alcohol to all other countries. However we can still ship non alcohol items to this countries.  We are very sorry. Thank you for your understanding.
VAT is included.