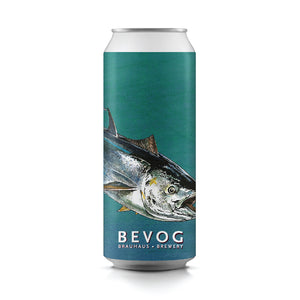 Style:  Double dry-hopped WEST COAST IPA / 6,2% alc.
The main goal with this beer was to bring back the great balance of an old school west coast IPA. Big sweet and bitter citrus aromas combined with the piny resin aromas and taste that lingers for a while. Gorgeous clear pale orange colour beer with touch of hop haze coming from double dry hopping with amazing Centennial and Chinook hops. 
And it comes in Bevog special editions series, called "Extinction is forever".
The extinction of any species is an irreversible loss. With every extincted animal we lose the biological richness and the balance of the ecosystem on the planet Earth. Humans could be next. We need to act now!
The bluefin tuna is a highly sought-after delicacy —a single fish can be sold for millions of US dollas! Driven by such incredibly high prices, fishermen use even more refined techniques to catch bluefin tuna. And the fish are disappearing as a result. Although tuna do
provide food for people, they are more than just seafood. Tuna are a top predator in the marine food chain, maintaining a balance in the ocean environment.