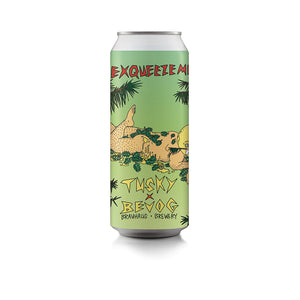 EXQUEEZE ME! (aka Tusky beer)
Exqeeze Me! (aka Tusky beer)

4,5% Alc
Tusky is a punk rock band who likes to drink beer and play music. Nothing new, right? Not so fast with judgement! They really really love beer, especially this super smoothly dry hopped lager that goes down like a dream after a long night hung out.
Drink it from the can and feel free to push a wedge of the lemon into it!
Available in 0,5L cans.
This item is available in Slovenia and Austria. Unfortunately there are legal limitations on shipping alcohol to all other countries. However we can still ship non alcohol items to this countries.  We are very sorry. Thank you for your understanding.
VAT is included.