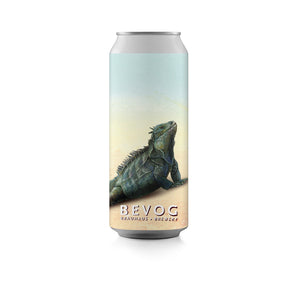 What a beer, what a Nitro Red IPA! 
Beer that marries a few beer styles into one, the beer that is bursting with big bold hop aromas and taste from hop varieties that we love and adore.The base of the beer is lined with 6 layers of different malts and raw oats which, in combination with nitrogen, gives to this beer an amazing silk smooth and creamy texture. 
The citrusy, tropical and resinous flavour and aroma, balanced with the lip smacking malt backbone will make your belly laugh and clap. An incredible brew with 7.1% ABV that will draw you a warm smile in this colder late summer and autumn time! 
We're super excited about this one and really can't wait to share it with you guys.
Pour it hard, do the heavy pour!

Ricord's rock iguanas are an critically endangered species endemic to the island of Hispaniola, occurring in the Dominican Republic and one location in Haiti. They are threatened by illegal poaching for food and non-native species such as feral cats, dogs, mongoose and pigs pose a predation risk. Habitat is often destroyed due to charcoal production, development for tourism, agriculture and mining.
Available in 0,5L cans.
This item is available in Slovenia and Austria. Unfortunately there are legal limitations on shipping alcohol to all other countries. However we can still ship non alcohol items to this countries.  We are very sorry. Thank you for your understanding.
VAT is included.