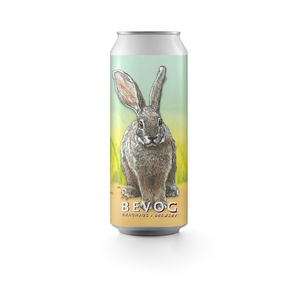 RIVERINE RABBIT

Is it Easter yet? not really, but RIVERINE RABBIT is!
It is Slightly Dry Hopped Pilsner.
For this Pilsner, we kind of mashed together lager and a bit of ale ways of brewing.
We brewed pretty traditional wort, used some noble hops in the whirlpool, then we fermented it carefully and after that slowly maturated it for 3 months on cold temperatures. Meanwhile, we gently dry-hopped it with Cascade hops, which gives it delicate fruitiness without choking crispness and makes it one very tasty and crushable beer. Sounds pretty simple and is when you have super ingredients and marvellous brewing people.
4,1% alc. Unfiltered.
Style: Hoppy Pilsner / ABV: 4,1 %
Available in 0,5L cans.
The extinction of any species is an irreversible loss. With every extinct animal we lose the biological richness and the balance of the ecosystem on the planet Earth. Humans could be next. We need to act now!
The Riverine rabbit lives in central and southern regions of the Karoo Desert in South Africa. Its habitat is along seasonal rivers, which are suitable for conversion to agriculture - and as a result the Riverine rabbit has lost virtually all its habitat to cultivation, livestock farming and hunting. Less than 250 individuals survive, with the fragmented subpopulations of no more than 50 rabbits.