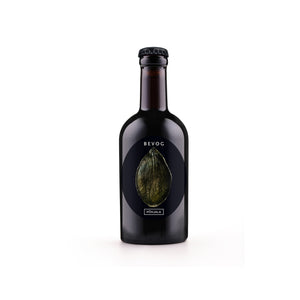 SEEDATED - BEVOG x POHJALA COLLABORATION
In September of 2021 a delicious imperial stout was brewed in collaboration with our good friends from Pohjala brewery (Estonia). We decided to brew it with something local to each of the breweries. For Austrian part we went with Styrian pumpkin seeds and for the Estonian part the spicy rye was composed into the recipe.

Pumpkin seeds are bursting with nutty flavour, and adding the beer a very luxurious velvety mouthfeel and a nice, almost pistachio aroma that fills your mouth with the richest sensation possible and lingers there for a long time. All this is backed with an extremely rich, sweet and slightly spicy rye character full of chocolate, and gently roasted flavours. To round all things up it was maturing for a year. This beer will leave you speechless.
Big. Bold. Creamy. Seedated.
This item is available in Slovenia and Austria. Unfortunately there are legal limitations on shipping alcohol to all other countries. However we can still ship non alcohol items to this countries.  We are very sorry. Thank you for your understanding.
VAT is included.