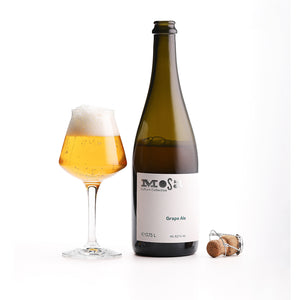 Styrian style grape ale?
Grape ales are a relatively young style of beer and were initially brewed in Italy and South Tyrol. Since Southeast Styria is also a wine country, we brewed this beer "hybrid?! 😉" . We just made it Styrian style. The beer style surprises with a certain complexity and freshness. The taste is of course influenced by the grape variety used.
Barrel aged
We always brew according to the brewing calendar from October to the end of February. During this time, the beers are placed in the barrels and then have time to develop. In barriques without us influencing the temperatures or anything else. However, those who already work quite a bit are the wild yeasts that surround our barrel cellar, live in it and enrich it with life.
Raw materials
A Lambic is brewed as the basic recipe for our Grape Ale. Depending on the recipe, grape must or grapes are either cooked or added during fermentation and maturing.
Yihaaa!
Carefuy, it is a brett?! Brettanomyces bruxellensis, a wild yeast in combination with the equally wild yeasts of the grapes, gives the Grape Ale a fantastic complexity in taste on the journey.
It's a funky ride
---
Lambic 2017 
Wine must 2017
Lambic 2020
Spontaneously fermented
Barrel aged
- Extremely limited