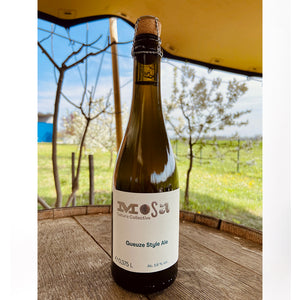 WTF?
Absolutely normal?!
In the past, beer was fermented spontaneously because neither the brewer nor the winemaker knew what yeast actually was. This type of fermentation is still practiced in Belgium, especially in the Brussels area. These beers are called ``Lambic``. This Gueuze is made by blending 1, 2 and 3 year old Lambics.
Barrel aged
We always brew according to the brewing calendar from October to the end of February. During this time, the beers are placed in the barrels and then have time to develop. In barriques without us influencing the temperatures or anything else. However, those who already work quite a bit are the wild yeasts that surround our barrel cellar, live in it and enrich it with life.
Raw materials
Lambics are always brewed with a proportion of unmalted grain, the so-called raw grain. We use PurPur wheat, spelt and ancient grain in our recipes. Quite spontaneously, in organic quality.
Old but really big
A ``slightly`` older organic hop is used in the brewing process. It gives the beer the right bitterness, which harmoniously combines with the acidity.
Less is more.
---
Blend 2018/2019/2020

Spontaneously fermented sour beer
Barrel aged
- Extremely limited