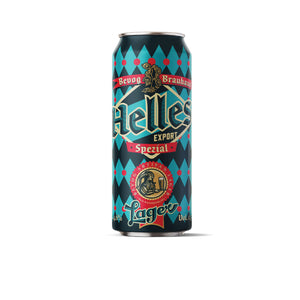 The beauty of it is it's tasty balance and harmony of all parts and how great beer you can brew with very few, but only the best ingredients and how crucially important each step in the process is to sculpture such beer. 
Our goal was to make very crisp, clean, delicious lager that will show respect for each ingredient and lager brewing tradition and all this in at just 4,6% alc beer.
This beer is cold lagered for 7-10 weeks, is unfiltered and unpasteurised. The reason why it is so clear comes from cold lagering which make sediment settle on the bottom of the tank and what is left is clear tasty beer.
The design of the can stands out form our core range because we again collaborated with the same artist that made design for Nitro Coconout Porter. Art in many forms is something we admire and we are super excited to give you look on our new creation. It reflects the old tradition of brewing great lager beers. 
It is available as draught and in half litre can which we believe and feel is the right size for this amazing crisp and tasty lager.
Cheers, Prost, Nazdravje!
🍻
This item is available in Slovenia and Austria. Unfortunately there are legal limitations on shipping alcohol to all other countries. However we can still ship non alcohol items to this countries.  We are very sorry. Thank you for your understanding.
VAT is included.