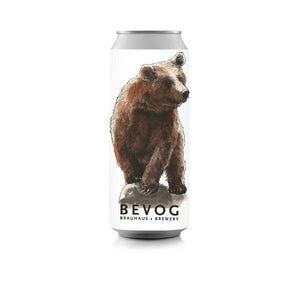 Do you folks like coffee? Yeah? How about chocolate?? Hell yeah?! Well good, because you're in for a treat! The newest Extinction is forever! member, the Marsican Bear is brewed with 100% arabica coffee from Cuba, masterfully roasted by the guys from Italcrem. We were aiming for chocolaty and nutty coffee flavour with as little as possible sourness or astringency. To achieve this, the coffee was roasted just a few hours before being added to the beer and we applied our own idea of cold brewed coffee.
We got the chocolate nibs from our amazing neighbours Zotter Schokoladen. We love their nibs, always fresh and rich with pure chocolate flavour.

For this bear, or rather to say beer, it was clear it will be nitro from the beginning and so recipe was built for it. We didn't add any lactose to it, so it's vegan friendly. Our new furry friend will coat your senses with smooth coffee, cacao and nutty flavours. It is on nitro because we wanted to achieve a nice silky and creamy texture. So get ready for next level Mocha!

Like with every Extinction beer, get it while you can, because once it's gone, it's gone forever! And remember: POUR IT HARD, DO THE HEAVY POUR!