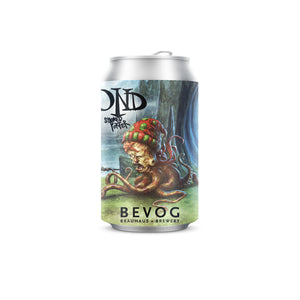 Ond shows our love for smoked and dark beers. Strength-wise, it belongs to robust porters, which means it has a slightly higher alcohol level and a medium body. The smoked character is incorporated into the entire beer and does not obscure the combination of roasted malts that give it a chocolaty and caramely character. To top it all off, we have added a carefully selected combination of Slovene and American hops that together, in the form of a slightly herbal woody note, conclude the complexity of Ond. Another true homage to lager beer brewing with 0 shortcuts. Only the best ingredients you can gather to brew a beer and the best possible brewing technique.

OND comes now in 0,33L cans..
This item is available in Slovenia and Austria. Unfortunately there are legal limitations on shipping alcohol to all other countries. However we can still ship non alcohol items to this countries.  We are very sorry. Thank you for your understanding.
VAT is included.