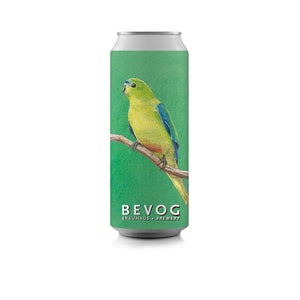 We proudly present you the first official organic beer that we ever made. Bevog turns 10 this year and we've decided to travel back in time, to when the race for who has more IBUs was raging.
It's a single organic malt beer that we hopped up mainly with hop varieties that give this beer aromas of super ripen sweet fruits and a resiny background. We were not only generous with hops in late hop additions and dry hopping, but the bitterness addition was a hefty one as well.
Imagine sweet fruits turning into resiny palate cleansing bitterness that lingers and pushes you to the next sip - or chug, if you prefer.
Bitterness is the new juice.
Available in 0,5L cans.
This item is available in Slovenia and Austria. Unfortunately there are legal limitations on shipping alcohol to all other countries. However we can still ship non alcohol items to this countries.  We are very sorry. Thank you for your understanding.
VAT is included.