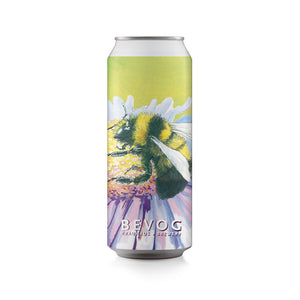 After 2 months of cold conditioning this slightly dry hopped beer is ready to treat you nicely.

Pretty rich malt base holds very well balance with 45 ibu wort of bitter hop dosage. On the hot side we used some very traditional German hops, but we finished the beer with dry hopping of some wonderful Loral hops.

Bright golden colour. Delicately fruity, floral, fresh bread and just a touch of herbal aromas. In the taste there is first a round sweet malty flavour that merges with slightly fruity hops, finish is pleasantly bitter that calls for next sip.

Cheers!🍻

....

The rusty-patched bumble bee was once commonly found across the North America, extending along the Appalachian mountains. It is now listed as an endangered species in the US and Canada, currently found in low numbers in a very small part of its former range. It has declined by 87 percent in the last 20 years. The reasons for the decline could be : disease, habitat loss, pesticide use and climate change. With the odds seemingly stacked against it, there is a role for everyone in conserving this beneficial pollinator.


This item is available in Slovenia and Austria. Unfortunately there are legal limitations on shipping alcohol to all other countries. However we can still ship non alcohol items to this countries.  We are very sorry. Thank you for your understanding.
VAT is included.