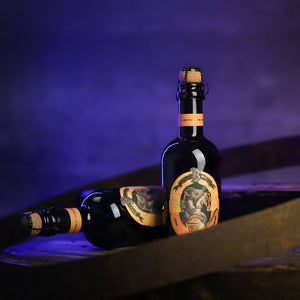 For this beer we wanted to keep the recipe simple on the ingredients part, but complex throughout the process - from brewing to the bottle. Brewed with the finest pale malts and hopped exclusively with Styrian Golding hops. It is a tripel that has been barrel aged in freshly emptied Hagger barrels, giving it deep golden colour and a whole symphony of flavours. Freshly baked wheat bread, vanilla, oak, flowers, peach and a sweet spicy aroma with a long lasting dry and mildly bitter finish. The mouthfeel changes from rich and round to dry in the end.
Tri is one very elegant beer.
This item is available in Slovenia and Austria. Unfortunately there are legal limitations on shipping alcohol to all other countries. However we can still ship non alcohol items to this countries.  We are very sorry. Thank you for your understanding.